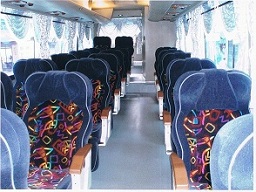 Express Bus Malaysia Guide
Luxury bus and express bus services are popular among people travelling from Singapore to Malaysia and from Malaysia to Singapore. Every year thousands of travellers head north by taking bus to Malaysia – to major cities and tourist attractions such as Malacca, Kuala Lumpur, Genting Highlands, Seremban, Ipoh, Penang and etc.
Bus vs flight from Singapore to Kuala Lumpur
Express bus operators have been sprucing up their Singapore to KL bus services to rival cheap flights from Singapore to Kuala Lumpur and Pulau Penang offered these budget airlines  : Tiger Airways, Jetstar Airways, Firefly and Air Asia  .
Why Take Bus to Malaysia
One of the main reasons travellers are taking the express bus to Kuala Lumpur rather than budget airlines is the convenience and the luxury that these express bus services are offering to travellers at very lowest prices.
It's Save Time & Money and Convenient
For some  destinations such as Muar, Yong Peng, Ayer Hitam, Mersing & Kluang in Johor; Port Dickson; Lumut (Gateway to Pangkor Island), and etc., that do not have an airport nearby, taking the express bus would save you time and money and best choice.
Bus Travelling Time from Singapore to Malaysia
| Destination | Travelling Time | Average Fare** |
| --- | --- | --- |
| Air Hitam | 2-3 hours | SGD18 |
| Yong Peng | 2-3 hours | SGD20 |
| Muar | 3-4 hours | SGD25 |
| Malacca | 3-4 hours | SGD26 |
| Mersing (Gateway to Tioman Island) | 4-5 hours | SGD30 |
| Port Dickson | 4-5 hours | SGD36 |
| Seremban | 4-5 hours | SGD28 |
| Kuala Lumpur | 5-6 hours | SGD28 |
| Genting Highlands | 6-7 hours | SGD35 |
| Shah Alam | 5-6 hours | SGD35 |
| Klang | 5-6 hours | SGD35 |
| Ipoh | 7-8 hours | SGD40 |
| Cameron Highlands | 9 hours | SGD45 |
| Lumut (Gateway to Pangkor Island) | 9-10 hours | SGD38 |
| Butterworth | 9-10 hours | SGD40 |
| Penang | 9-10 hours | SGD40 |
| Hat Yai, Thailand | 12-13 hours | SGD45 |